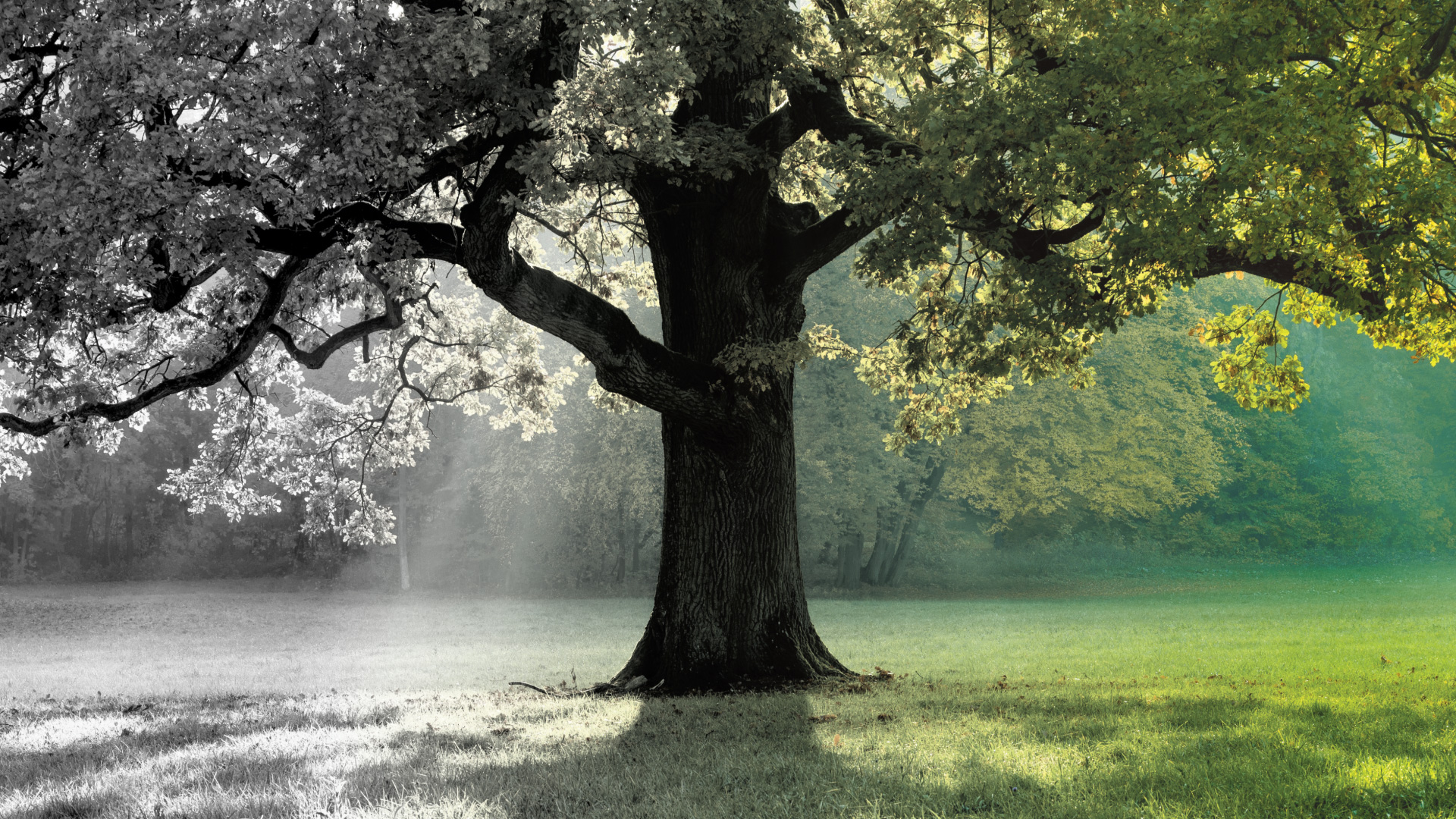 The need and desire to protect the environment generates enormous potential to unite everyone in the world, regardless of colour, political persuasion, ideological orientation, national or religious affiliation, economic status or social definitions. This potential is the main driving force of the new circular economy.
EcoSynergy System has developed a model, ˝know-how˝ and content on how to transform the creative ecological potential of the population into a new circular economy economic framework to ensure sustainable development.
The tested EcoSynergy System Model has confirmed that the implementation of the circular economy cannot be done with partial solutions or pollution sanctions and laws.
Only a systemic and multi-level solution that includes all social factors and encourages individuals and groups to participate will work. Participation creates a system of mutual benefit in which the existential, ideological and creative goals of individuals are fulfilled.
As the complete structure of the new global circular economy, the EcoSynergy System will be established with nine implementation and programme pillars: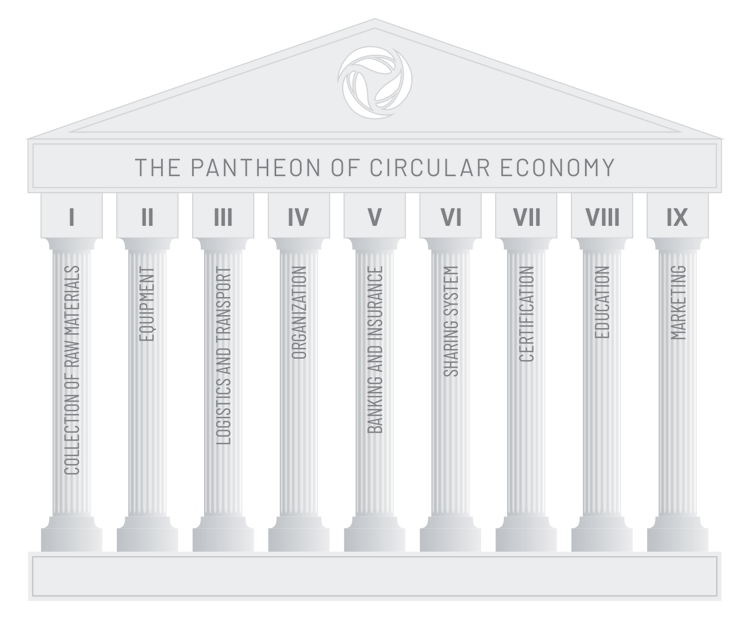 I             COLLECTION OF MASS FLOWS OF RAW MATERIALS, MATERIALS AND PACKAGING FROM THE POPULATION, SERVICE ACTIVITIES AND INDUSTRY AND REHABILITATION OF ALL TYPES OF LANDFILLS;
II             NEW EQUIPMENT FOR UTILITY COMPANIES, INDUSTRY, SERVICES, RETAIL AND SYSTEM COLLECTION CENTERS;
III            LOGISTICS AND TRANSPORT EQUIPMENT, INFRASTRUCTURE AND ANCILLARY FACILITIES;
IV        NEW ORGANIZATION AND STATUS OF EXISTING SHOPS, SMALL RETAILERS AND ECO VILLAGE SHOPPING CENTERS IN THE CIRCULAR ECONOMY SYSTEM;            
V       BANKING AND INSURANCE SYSTEMS INCLUDED IN THE CIRCULAR ECONOMY OF THE ECOSYNERGY SYSTEM THROUGH BANK-RECORD CARDS, APPLICATIONS, DIGITAL MONETIZATION OF RAW MATERIALS AND CONTRACT CARD-PROCESSING COMPANIES;
VI            A NEW SHARING SYSTEM EQUIPMENT FOR THE POPULATION, INDUSTRY AND SERVICES IN THE ECOSYNERGY SYSTEM;
VII          SYSTEM IMPLEMENTATION OF THE "CERTIFICATE OF EXTENDED PRODUCER RESPONSIBILITY" FOR COMPANIES, SERVICES AND TRADE;
VIII         EDUCATING ALL SECTIONS OF THE POPULATION ON INCLUSION IN THE CIRCULAR ECONOMY WITH AN INNOVATIVE DIDACTIC SYSTEM;
IX         NEW ORGANIZATION OF MARKETING AND PR COMPANIES, NEW ORGANIZATION OF GLOBAL SOCIAL NETWORKS AND A NEW MARKETING CHANNEL FOR THE PROMOTION OF FOOD AND NON-FOOD PRODUCTS, SERVICE ACTIVITIES AND INFORMATION OF CITIZENS.
ESS PILLAR I: REUSE OF RAW MATERIALS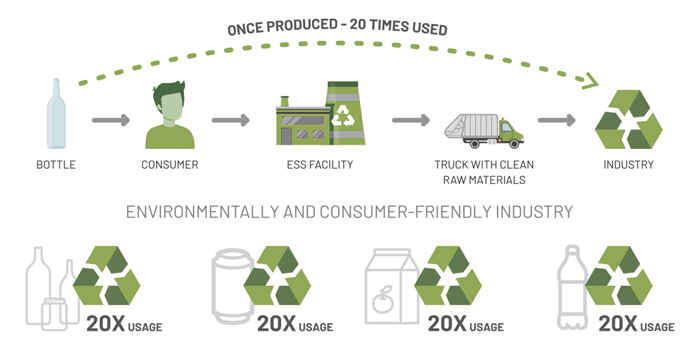 Under the existing social contract, the consumer has temporary ownership of short-term packaging (food) or long-term ownership of non-food products (electronics, technology, cars, etc.). After use, the products/packaging become the responsibility of the state, state utility systems or packaging disposal companies.
The PILLAR I of the circular economy of the EcoSynergy System implements that all already created materials, raw materials and packaging pass into a new processing and use cycle after the period of use, function and purpose, until their molecular structure is so fatigued that the renewed technological use cycle is no longer worthwhile and the use of these materials can only be considered for end use, such as utility lines, sports fields, road infrastructure, heat and energy use, etc.
ESS PILLAR I: NEW ORGANISATION OF MASS FLOWS OF RAW MATERIALS, MATERIALS AND PACKAGING,... etc.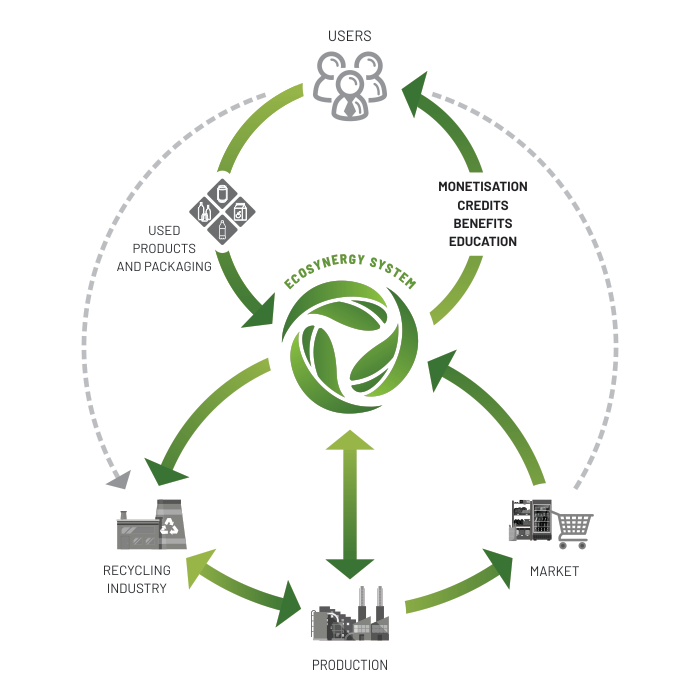 The EcoSynergy System offers consumers (citizens, industry) the opportunity to participate by becoming members and submitting all their packaging, materials, raw materials, ... etc. into the circular economy and accumulate them as property for monetization in the ECOSS algorithm or for reducing the cost of living, services, education, ... etc.